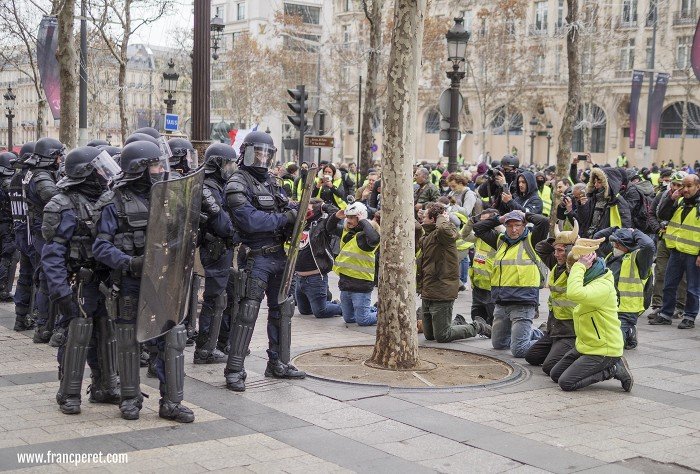 History is on its way in France, with its yellow vest insurrection and I couldn't let it go without being part of it as a visual witness, due to my photo and video journalist background
By Franc Peret
I left home at 5:30 am took a train and spent my day in Paris, searching for snapshots in the heat of the yellow vest insurrection.
Subway stations being shut down, I walked for hours from "Paris-Bercy" to "Place de l'Étoile" through "Bastille" (about 11 kms due to many major streets blocked by police).
I saw policemen disguised as protesters, I got 6 safety body search prior to reach "Champs Élysées".
Police kept my protective goggle and my light gas mask to be sure I will be suffering during their coming assault.
I followed a growing marching group to destination.
They were coming from all parts of France, with no leaders and no political party for telling people where to go and what to do.
Most of them reacted against the official message from our government: "Don't go to Paris, it will be too dangerous and our forces will be tough on illegal protesters (they consider us all as illegal anyway)".
Reaching "Champs Élysées", men in uniform let us in, but never let us out until mid afternoon.
Waiting for the rest of the crowd, we exchanged jokes and opinion with very friendly Gendarme (kind of police belonging to Army corp) locking the way to the "Place de l'Étoile".
Later on, they protected us against some very aggressive policemen in combat gear.
Locked in a trap, we swallowed tear gas for hours.
Once I threw up and cried a lot.
I became blind and lost my way, until a baton pushed me away in the right direction. I was in the most dangerous location; among men in gear.
Few minutes later, I got shot by a flash ball in my right leg.
Luckily, it bounced on somebody else before hitting me.
The old lady was bleeding, and I just got a bruise.
Protesting nurse, doctors and firemen in strike took care of people in pain like us.
My leg was steep and I had great difficulties to reach back my train station, hobbling for 2 hours, on the irregular pavement of the Seine river bank.
Back in the train, i realized that I didn't sit for a single second during the last 10 hours.
I was not fully satisfied with my pictures and video, as my lack of protection, experience and updated information plus my protective instinct kept me away from the hottest event.
Thus I went back once again to Paris the following Saturday, with a better understanding of the situation but a worst lighting situation due to a winter style overcast day…
THE END

Information:
– All pictures were shot with Panasonic Lumix GH5 + 12-35 mm f/2.8 + 35-100 mm f/2.8 + Voigtlander 25 mm f/0.95.
– Wide format pictures and panoramic views were extracted from my 4K video footage.
Former photo journalist, Film maker and ELC Shanghai Photography teacher, Franc Peret is teaching Essential Photography Classes, Advanced Photography Workshop and Film Making Classes in Shanghai, for the last 13 years.
If you wish to contact Franc, just drop an email to francperet@hotmail.com