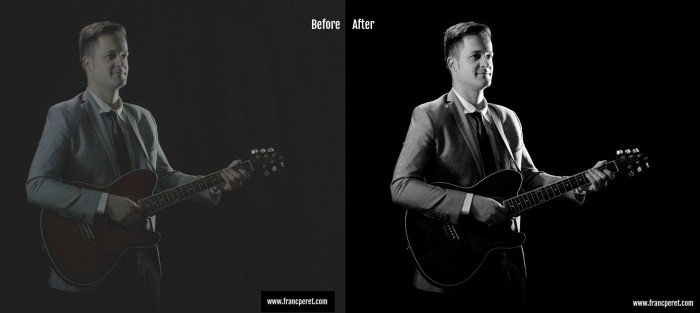 V-Log and LUT offer new solution for video recording with a flat image at start which can be tweak in post processing to match the look you are after.
By Franc Peret
Shooting Video without an external recorder is like shooting jpg only in photography.
No raw file are available for post processing to extract all the recorded information by the sensor.
Therefore, I avoid to record a saturated and contrasted image straight out of the camera while filming.
Having a flatter and almost lifeless image allows much more manipulation of the video in post production.
Many photographer are not aware about this and it is true that the original image in V-log looks so bad on the camera screen that it is hard to believe that anything good can be extracted from it.
Here is a good example from my latest Music Video, with the original frame recorded with the flattest color profile from my Panasonic Lumix GH4 and the final result after 1 layer applied in Photoshop.
I can then export that treatment as a LUT file to correct the whole video in my edit line (Premiere Pro CC).
Impressive?
You can watch the final result (The Music Video) here: Shooting at Home
Former photo journalist, Film maker and ELC Shanghai Photography teacher, Franc Peret is teaching Essential Photography Classes, Advanced Photography Workshop and Film Making Classes in Shanghai, for the last 11 years.
If you wish to contact Franc, just drop an email to francperet@hotmail.com